WEITECH | MOUSE & RAT GLUE TRAPS hazelnut flavoured
Mouse and rat traps with glue.
Trap to be placed on the presumed passage of rodents. Attracted by the bait placed in the center of the trap, rodents get stuck instantly and die quickly by cardiac arrest.
Security policy
Visa, Mastercard et virement bancaire
Delivery policy
Dans les meilleurs délais.
Precautions for use :
Avoid placing the traps in places frequented by pets, otherwise protect them to make them inaccessible.
Keep out of reach of children and pets.
In case of traces of glue on the ground or the skin, clean with vegetable oil.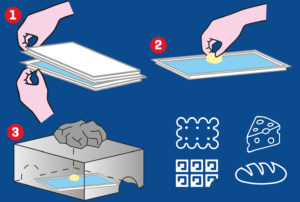 Customers who bought this product also bought: